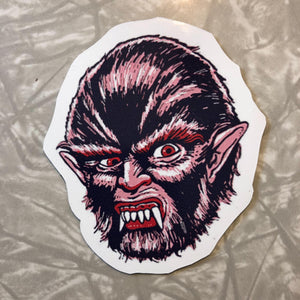 (1) Custom vinyl MAGNET depicting the iconic monster 
from cult classic 
TEENAGE WEREWOLF!!!
 This illustration/design is done in the style of the old "Mani-Yack" Kaumagraph transfers from the 1960's. Measures approx. 3.5 INCHES TALL! High quality, UV resistant materials used in production.
These look great applied to lockers, toolboxes, refrigerators, etc.
For more info on my custom "Mani-Yack"-inspired designs (50+ in all), feel free to contact me.
All Images Protected - copyright 2023 - Jeff Carlson