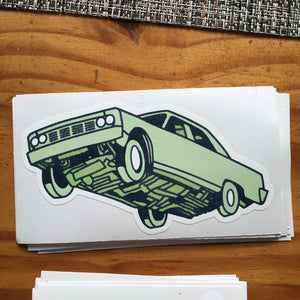 Custom vinyl STICKER of the GLOWING CHEVY MALIBU from the 1980's classic movie REPO MAN!!! starring Harry Dead Stanton and that Emilio Estevez kid!!! 
Each GLOW sticker is approx. 4.5 inches wide and is made from the finest UV and weather resistant materials.
For more info on my custom "Mani-Yack"-inspired designs (50+ in all), feel free to contact me.
** Join my "MANI-YACK Monster Designs" group on INSTAGRAM and FACEBOOK for updated info on new designs, products and more!!! **
All images protected - Copyright 2020 - Jeff Carlson