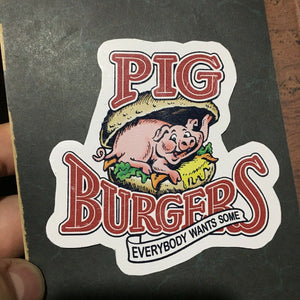 Custom vinyl MAGNET of the PIG BURGERS logo from the 1980's classic movie BETTER OFF DEAD!!! starring John Cusack!!! 
Each magnet is approx. 3.5 inches tall and is made from the finest UV and weather resistant materials.
For more info on my custom "Mani-Yack"-inspired designs (50+ in all), feel free to contact me . Also available as signed "art prints" suitable for framing, wrapping fish or lining the bottom of birdcages.
** Join my "MANI-YACK Monster Designs" group on FACEBOOK for updated info on new designs, products and more!!! **
All images protected - Copyright 2019 - Jeff Carlson
I WANT MY TWO DOLLARS!!!