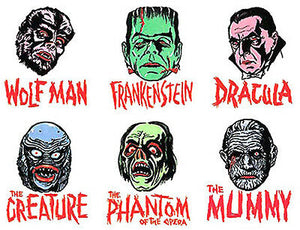 I've taken a pristine set of the original 1964

 

Mani-Yack

 

transfers and had them professionally scanned, retouched, color-corrected and reprinted onto modern iron-on transfer paper. These images look exactly like the originals but will hold up much better in the wash . . . no need to destroy the rare and valuable originals! 
All the Old School creeps are here:

 

Dracula

,

 

The Mummy

,

 

The Creature from the Black Lagoon

,

 

The Frankenstein Monster

,

 

The Wolfman

 

and

 

The Phantom of the Opera!!!

 You get a full set of all six 8 x 10 inch images for one low price! If you are a fan of the classic Universal Monsters, Famous Monsters of Filmland magazine or Aurora monster models kits . . . these are for you!
Each individual transfer is printed on seperate sheet and comes with application & care instructions.
These look great on t-shirts, tote bags, pillows or any white/light-colored fabric item.
For more info on my custom Mani Yack-inspired designs (50+ in all), "Like" my Facebook page: Mani-Yack Monster Designs!