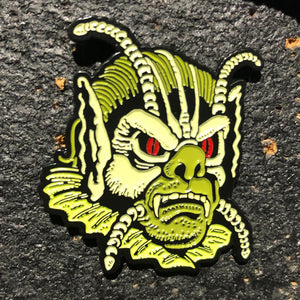 In an ongoing partnership with "Scumbags & Superstars NYC" we bring you another great monster product:
1) Custom ENAMEL PIN of the classic PAUL BLAISEDELL creature (played by Crash Corrigan) from the movie THE SHE-CREATURE!!!  This illustration/design is done in the style of the old "Mani-Yack" Kaumagraph transfers from the 1960's. Measures approx. 1.75 inches tall. Comes with rubber-clutched pin posts/backs. High quality materials used in production.
These look great applied to clothing, backpacks, hats/caps, etc.
For more info on my custom "Mani-Yack"-inspired designs (50+ in all), feel free to contact me
** Follow my "MANI-YACK Monster Designs" group on FACEBOOK and INSTAGRAM for updated info on new designs, products and more!!! **
All images protected - Copyright 2021 - Jeff Carlson