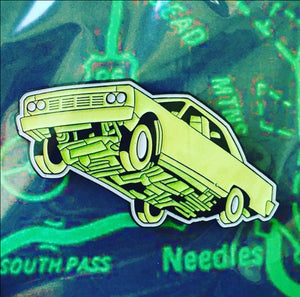 (1) Custom ENAMEL PIN depicting GLOWING CHEVY MALIBU from the 1980's classic movie REPO MAN!!! starring Harry Dead Stanton and that punk Emilio Estevez kid!!! 
Pin (metal, soft enamel) measures approx. 2 INCHES WIDE. Double, military-style post/pin with black rubber clutch fastener. Highest quality materials used in the production. 

GLOWS IN THE DARK!!!

For more info on my custom MANI-YACK™-inspired designs (50+ in all), feel free to contact me
** Join my "MANI-YACK™ Monster Designs" group on FACEBOOK for updated info on new designs, products and more!!! **
All images protected - Copyright 2023 - Jeff Carlson